Viral videos posted by social media influencers has drawn a lot of ie, but many traditional rites of romance are based on ad campaigns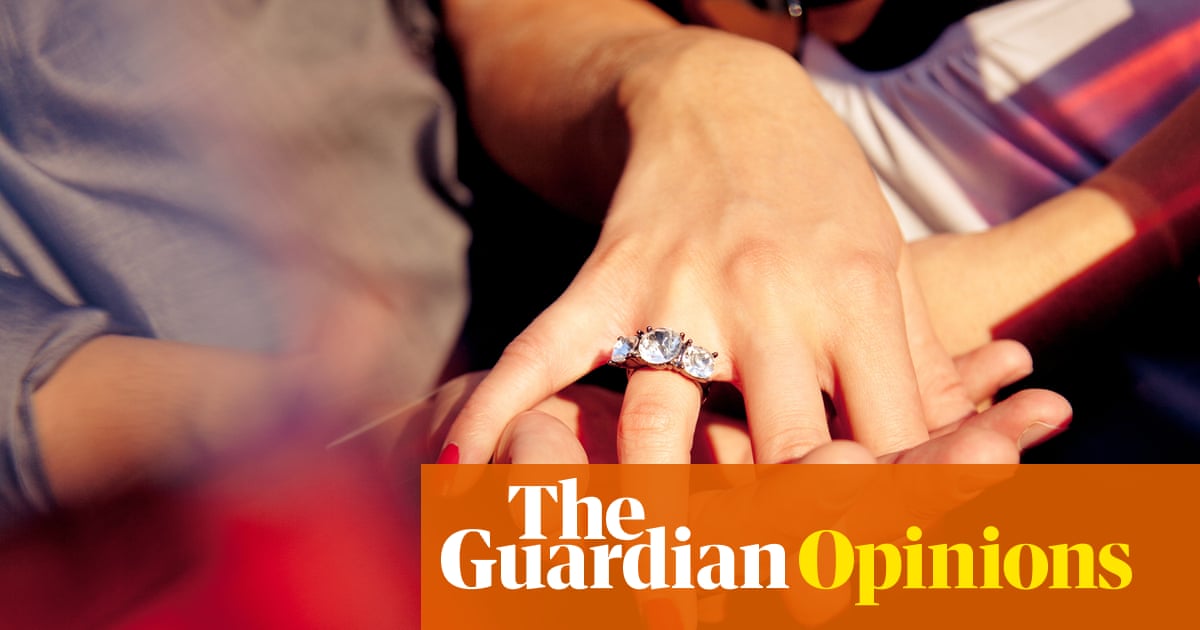 Surprise! We live in influencer hell
Dearly beloved, we are assembled here today to witness a heartwarming story of modern #love. I hope youve got tissues at the ready because its guaranteed to bring a tear to your eye.
The story starts in New York with a glamorous heterosexual couple: Marissa Casey Fuchs and Gabriel Grossman. Fuchs is a director of brand partnerships at Goop and a fashion influencer with almost 200,000 followers; Grossman is an investment banker. (Please dont immediately hate them because of their jobs, wait a few paragraphs and hate them because of their personalities.)
Last Tuesday Fuchs, who goes by @fashionambitionist on Instagram, shared a video of Grossman sort-of proposing. I have the most important question of my life to ask you, he announced. The problem is, were not really into traditional weddings. Its not really our style. The romantic renegade then explained he was dispatching his beloved on an extraordinary adventure. The internet watched in delight as Fuchs headed off on a scavenger hunt spanning New York, Miami, and Paris in search of Grossman and her happily ever after. Every step was diligently documented on Instagram, and the whole thing went viral.
Alas, the course of true love never does run smoothly. Rumours soon started swirling that this surprise engagement was nothing of the sort; rather it was a staged marketing stunt. The Atlantic got hold of a pitch deck that brands and advertising agencies had been sent by Grossman; this contained a detailed itinerary of the proposal and offered them the chance to align with this momentous occasion. Its not entirely clear whether Fuchs knew about this deck (Grossman has told the Atlantic she didnt), but the fact she diligently followed the content posting schedule in the presentation means a lot of people suspect she was in on the whole thing. Long story short, it seems highly likely the pair had schemed to turn their surprise engagement into sponsored content. Welcome to the era of branded engagements, the Atlantic proclaimed.
You know what? Despite my snarking, Ive actually got a grudging respect for this couple. Marriage is already highly commoditized why not cynically make a buck out of the whole thing? And while social media influencers may be relatively new, the era of branded engagements started a long time ago, when De Beers convinced Americans that a diamond ring was an integral part of proposing. Theres nothing traditional about this custom; its the result of an ad campaign.
The way in which De Beers has manipulated the way we think about romance over the last several decades is fiendishly clever. The company actively promoted surprise engagements, for example, because research showed men would spend more on a ring when a woman wasnt involved in the selection process. They also did a lot of insidious influencer marketing: in the 1940s, for example, the companys ad agency NW Ayer, arranged a lecture program in American high schools. In a memo to De Beers, the agency noted: All of these lectures revolve around the diamond engagement ring, and are reaching thousands of girls in their assemblies, classes and informal meetings in our leading educational institutions.
So lets not to be harsh on Fuchs and Grossman, eh? A lot of the traditional rites of romance are actually just ad campaigns weve all bought into; their stunt just takes the commodification of marriage to its logical conclusion. And I for one cant wait to see how they will inevitably brand their baby.
Foodie calls: women who go on dates for free meals
Very important new research published in the journalSocial Psychological and Personality Science examines the phenomenon of women who date men in order to get free food. Apparently 2333% of women the researchers surveyed had engaged in a foodie call. According to Newsweek: Women who were Machiavellian, but not psychopaths or narcissistic, were more likely to go on foodie calls. A link was also found with women who believed in traditional gender roles.
Women-only jobs at Dutch university
Eindhoven University of Technology is opening up jobs exclusively to female candidates over the next 18 months in order to try and recruit more women. Under the new recruitment policy, men will only be eligible for any academic post if no suitable female candidates emerge within six months of a job becoming available, the Guardian reports.
Cannabis use in pregnancy
A study published in the Journal of the American Medical Association has found an increase in the number of American women who are using cannabis products during pregnancy. Data from women who participated in the National Survey on Drug Use and Health from 2002 to 2017 found an increase in cannabis use during pregnancy from 3.4% in 2002 to 7.0% in 2017.
Women dominating the workforce
Women now constitute 50.2% of the college-educated workforce, according to the Pew Research Center. Thats up from up from 45.1% in 2000. While this milestone is good news, the bad news is that theres a still a major pay gap.
Original Article : HERE ; The Ultimate Survival Food: The Lost Ways
Top Rated Products
Here's the exact reason women should NEVER diet like men. Special tips for controlling female metabolism for that tight tummy and [...]
The 450 MEG Ultimate Web Graphics Package is packed full with .jpg, .gif, and .png files that will meet all your web graphic and i[...]
The 450 MEG Ultimate Web Graphics Package is packed full with .jpg, .gif, and .png files that will meet all your web graphic and i[...]
All-In-One Car Diagnostics Scanner Software for OBD2, OBDII Cars... with ECU Chip Tuning Ability. [...]
Finally, the wealth secrets of Oprah and Elon Musk's millionaire methods revealed Find out the exact tools they have used to gener[...]
Finally, the wealth secrets of Oprah and Elon Musk's millionaire methods revealed Find out the exact tools they have used to gener[...]